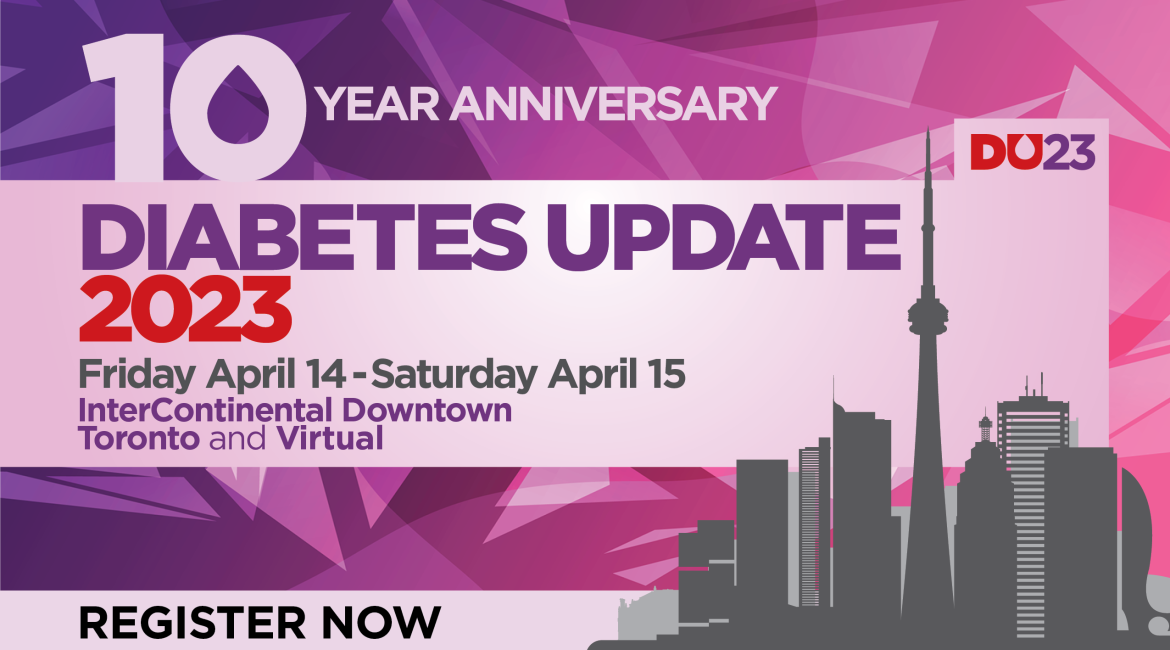 Diabetes Update 2023
Presenter
Ananya Banerjee, PhD | Denice Feig, MD | Ahmed Kayssi, MD | Sonia Butalia, MD | Alice Cheng, MD | Louis-Philippe Girard, MD | Diana Sherifali, MD | Lawrence Leiter, MD | Remi Rabasa-Lhoret, MD

Please join us for the 10th edition of the Diabetes Update conference. This two-day national congress will bring together diabetes health professionals from across Canada to connect with colleagues and exchange with leaders in their field.
Celebrate this congress' 10th anniversary in person with your colleagues in downtown Toronto and online from anywhere in the world!
The onsite event will provide exclusive networking opportunities and events, meeting face to face and the joy of learning and sharing together in person (respecting the highest sanitary measures for your comfort and safety). To cater the needs of all, the sessions will also be livestreamed from Toronto for those unable to travel.
Conference Details 
Dates: April 14-15, 2023
Time: 9:00 a.m. Friday – 1:30 p.m. Saturday Eastern Time 
Scientific Planning Committee
Zaina Albalawi (co-chair), MD, MSc, FRCPC
Alanna Weisman (co-chair), MD, PhD, FRCPC
Kim A. Connelly, MBBS, PhD, FSCMR, FCCS
Akshay Jain, MD, FRCPC, FACE, CCD, ECNU, DABIM, DABOM
Jeffrey Habert, MD, CCFP, FCFP
Tammy Cadieux, Nurse Clinician